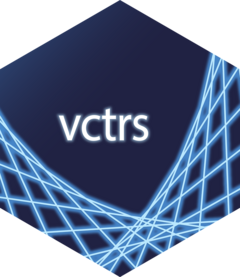 Test if two vectors are equal
Source:
R/equal.R
vec_equal.Rd
vec_equal_na() tests a special case: equality with NA. It is similar to is.na but:
Considers the missing element of a list to be NULL.

Considered data frames and records to be missing if every component is missing. This preserves the invariant that vec_equal_na(x) is equal to vec_equal(x, vec_init(x), na_equal = TRUE).
Arguments
x, y

Vectors with compatible types and lengths.

na_equal

Should NA values be considered equal?

.ptype

Override to optionally specify common type
Examples
vec_equal

(

c

(

TRUE

, 

FALSE

, 

NA

)

, 

FALSE

)




#>

 [1] FALSE  TRUE    NA


vec_equal

(

c

(

TRUE

, 

FALSE

, 

NA

)

, 

FALSE

, na_equal 

=

 

TRUE

)




#>

 [1] FALSE  TRUE FALSE


vec_equal_na

(

c

(

TRUE

, 

FALSE

, 

NA

)

)




#>

 [1] FALSE FALSE  TRUE





vec_equal

(

5

, 

1

:

10

)




#>

  [1] FALSE FALSE FALSE FALSE  TRUE FALSE FALSE FALSE FALSE FALSE


vec_equal

(

"d"

, 

letters

[

1

:

10

]

)




#>

  [1] FALSE FALSE FALSE  TRUE FALSE FALSE FALSE FALSE FALSE FALSE





df

 

<-

 data.frame

(

x 

=

 c

(

1

, 

1

, 

2

, 

1

, 

NA

)

, y 

=

 c

(

1

, 

2

, 

1

, 

NA

, 

NA

)

)




vec_equal

(

df

, data.frame

(

x 

=

 

1

, y 

=

 

2

)

)




#>

 [1] FALSE  TRUE FALSE    NA    NA


vec_equal_na

(

df

)




#>

 [1] FALSE FALSE FALSE FALSE  TRUE